Web Hosting for Beginners
Are you a total beginner when it comes to web hosting? Does HTML confuse you, but you still want to create your own website? Then you need to get a host that has what is called a "website builder." These are intuitive interfaces that help you create a website even if you have no clue how to program or write computer code.
Weebly and Wix are two popular hosting companies which are appropriate for complete beginners. If you have a simple business and just need to have a presence on the Internet then these sites are fine. Over the years I have helped various people make modifications to their sites, which were hosted on these companies' servers, and I have to say that from my own experience I would recommend them both.
Weebly
Weebly sells itself on being a one-stop-shop for your web hosting needs. They take care of your hosting, domain name registration, optimizing your site for search engines, website visitor statistics, integrated shopping cart, and more. You can choose from hundreds of sexy looking designs to create your own site with their intuitive website builder.
Now, if you mention the term "website builder" to a geek, it will generally produce an eye-rolling response and a statement about cumbersomeness. That is simply because these building interfaces have to deal with the complexity in generating the underlying web code, making the interface usable via a browser, and still staying responsive, logical, and intuitive. Not all website builders are created equally. Some are a lot worse than others.
That said, Weebly's website builder is actually pretty decent. It allows you to create motion and transition effects on different pages, like you might imagine seeing scrolling through a semi-interactive photo gallery. You can also create a store-front, add products fairly easily, as well as create an entire site specialized for smart phone visitors – all with relative ease. Here is a taste of what their website builder looks like: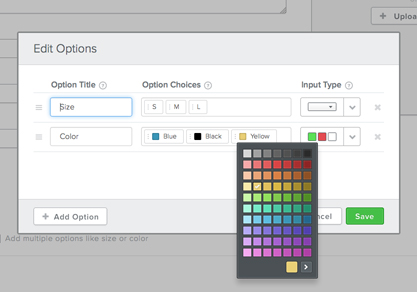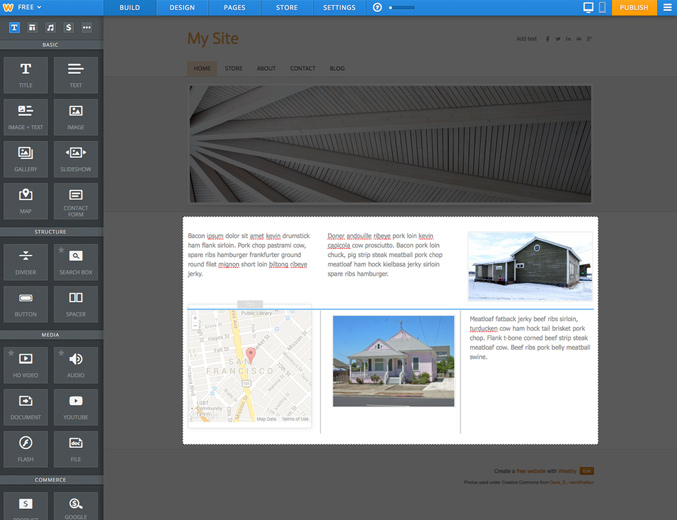 Because Weebly is for total beginners, they do not even advertise how much disk space, monthly transfer limits, or email accounts you get. If you're considering this level of hosting, then those are not really things you need to worry about. If you have a small business and just need a web presence, and dealing with computer stuff isn't a big priority for you, then Weebly is a good choice.
One of the biggest selling points for recommending Weebly is their fancy, eye-candy like designs. They have many different themes to choose from. In the world of business a lot of people don't like to admit it, but marketing, and sexy packaging, makes sales. People will form opinions about you and your business based on how your site looks, so it is good to go with a host that gives you plenty of options.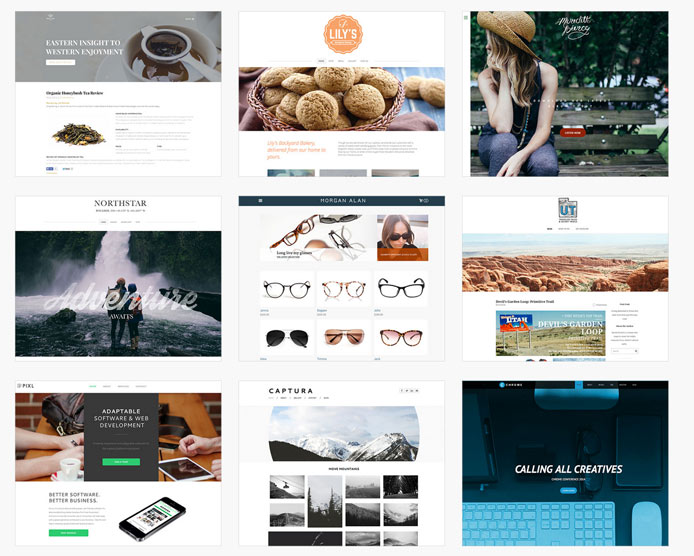 If you have a business, and you can afford it, go with their Business Plan, which is $25/mo. The reason to choose this option is pretty simple: no transaction fees on your customer's purchases and your shopping cart is integrated with your site, rather than directing your customers through Weebly's checkout page.
Cost Comparison for Weebly Hosting Plans
| Feature | Starter | Pro | Business |
| --- | --- | --- | --- |
| Video & Audio Integration | No | Yes | Yes |
| Fancy Header Slideshow | No | Yes | Yes |
| Password Protect Pages | No | Yes | Yes |
| # of Pages Allowed | 10 | Unlimited | Unlimited |
| # of Products Allowed | 10 | 25 | Unlimited |
| SSL Security | No | No | Yes |
| Premium Support | Yes | Yes | Yes |
| Price | $4/mo | $8/mo | $25/mo |
Their Business Plan is necessary if you want to sell digital goods, like e-books, songs, zip files, etc. Inventory management, sales tax and shipping calculation, and coupon codes are also only available on the Business Plan. Weebly is a great place to start whether you have a small business or just want a personal site to establish your online presence.
Check out some of Weebly's themes and see for yourself what you think.
Wix
Much like Weebly, Wix sells itself on its hundreds of hip, sexy, and stylish templates/website themes created by professional designers. They have over 70 different template categories to choose from.
Wix offers more support for social media integration and interaction than Weebly does, however. You can add Facebook comments to your site, a Twitter feed, and even create social sharing buttons for your pages. These sharing buttons are actually very important these days for driving traffic to your site.
Wix also allows your site to be mobile phone compatible, as does Weebly. Both hosts let you create contact forms for your customers, or leads, but only Wix has the platform for you to create your own newsletter so that you can respond to those people. With Wix you would have to use an outside platform, like MailChimp, to send newsletters.
Wix gives you more options than Weebly, but that also means things are a little bit more complicated to setup and run. If you can afford the time and effort to do that then definitely go for it. Another positive aspect to Wix's hosting is that they do not charge transaction fees when your customers purchase one of your products through their system, or shopping cart.
Cost Comparison for Wix Hosting Plans
| Feature | Basic | Combo | "Unlimited" | eCommerce | VIP |
| --- | --- | --- | --- | --- | --- |
| Storage | 500 MB | 3 GB | 10 GB | 20 GB | 20 GB |
| Monthly Transfer | 1 GB | 2 GB | Unlimited | 10 GB | Unlimited |
| Wix Ads on Your Site | Yes | No | No | No | No |
| Contact Forms Allowed | No | No | Yes | Yes | Yes |
| Shopping Cart Support | No | No | No | Yes | Yes |
| SSL Security | No | No | No | No | No |
| Premium Support | Yes | Yes | Yes | Yes | Yes |
| Price | $4.08/mo | $9.25/mo | $12.42/mo | $16.17/mo | $24.90/mo |
In our mind, their basic package is a bad idea, since it forces you to have ads on your site. At the very minimum you should get the "Combo" package. And if you are business owner you have to at least get the "eCommerce" package, since the first three packages don't allow you to make transactions.
Also, don't let the fact that these are "beginner" hosts get you down. Wix has tons of templates/themes to choose from and a lot of them are really good looking. That is where these hosts both stand out. Their templates have to rock because the visual effect of the design is basically their whole (unconscious) selling point.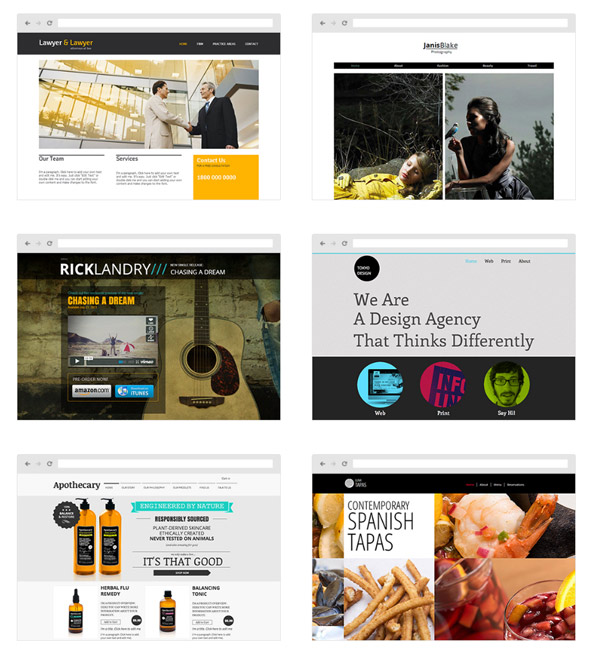 Are you an artist or designer? You will like all the options you have to pass onto your own clients. Check out some more Wix designs.
So which host is better? Well, it depends on who you are and what you need. If you're a business owner, and you can deal with getting a few things set up, then Wix looks a bit more attractive. If you just have a personal site and want things to be as easy as can be, then Weebly looks good. I have tested each and they are both solid choices for newbies.
Want to test them out yourself and see what you like? You can do that too. They both offer the feature to sign up (for free), create a site, and see how well you like everything, before you decide to upgrade to a paid account with full services and options.
Because these hosts are targeted at beginners they offer this preview-before-you-buy type service. Most other hosting companies out there do not offer this option. So that is definitely a bonus. You get to try them out and have fun creating a new site.
Check out Wix and get your own website setup.
Tweet