Linode Review
Are you a Geek? Can you use a Linux console? I recommend Linode. It's what this web site is hosted on and is our preferred web host. Linode takes all of the basics of Amazon AWS, and strips out all the excessive complexity, unnecessary jargon/services, and arduousness of the set up process. What you are left with is a simple to setup VPS environment with a an incredibly easy to use control panel and plenty of options.
Don't know anything about Linux system administration or management? Then a Virtual Private Server like Amazon AWS or Linode is definitely not for you. Shared hosting with a control panel interface does have its place. If you're a small business owner, blogger, or artist who wants something easy and simple then check out our review of MediaTemple vs DreamHost.
Setting up a new virtual machine instance on Linode is incredibly straightforward and simple.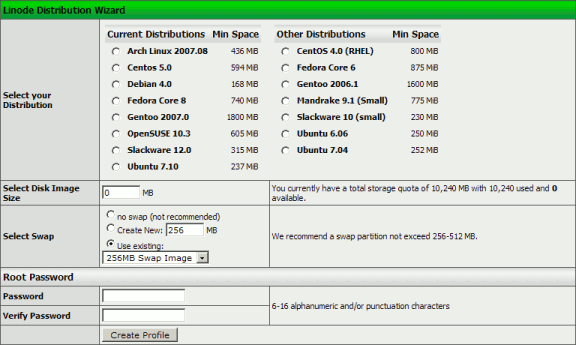 If you know your way around a Linux console and you want control, flexibility, scalability, and stability, then Linode is a great choice. Setting up and configuring your Linux machine isn't like the old days (1990's). They offer what they call "StackScripts," which essentially automates the process of setting up Apache, PHP, MySQL, etc.
They're very easy to use – find a StackScript, answer its questions (Ruby? Php? What MySQL version?), and click deploy. When the deployment is first booted, the script is executed and does its thing. You can even watch its progress by viewing the console. Doing this, you can get your preferred applications set up incredibly quickly.
You can set up new machines, manage your disks, and even resize your virtual Linux machine all with a few clicks. You can also enable backups of machines of your choice and clone entire systems as well.
Dashboard View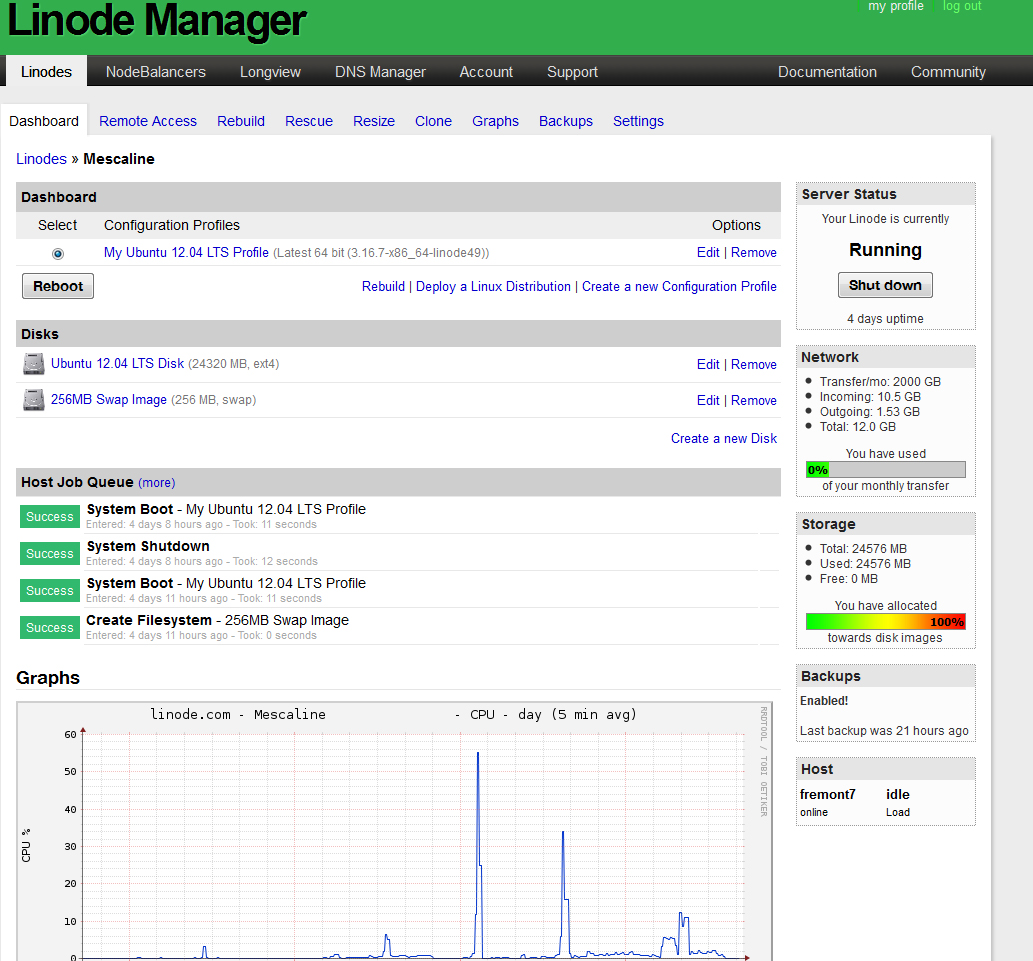 Another great feature is the ability to see statistics about your server, applications, memory usage, cpu usage, traffic, disk i/o, load, etc. They make setting this up pretty easy, with a guided walkthrough. It takes less than 2 minutes to set up and they look very sexy.
System Overview
Apache Stats View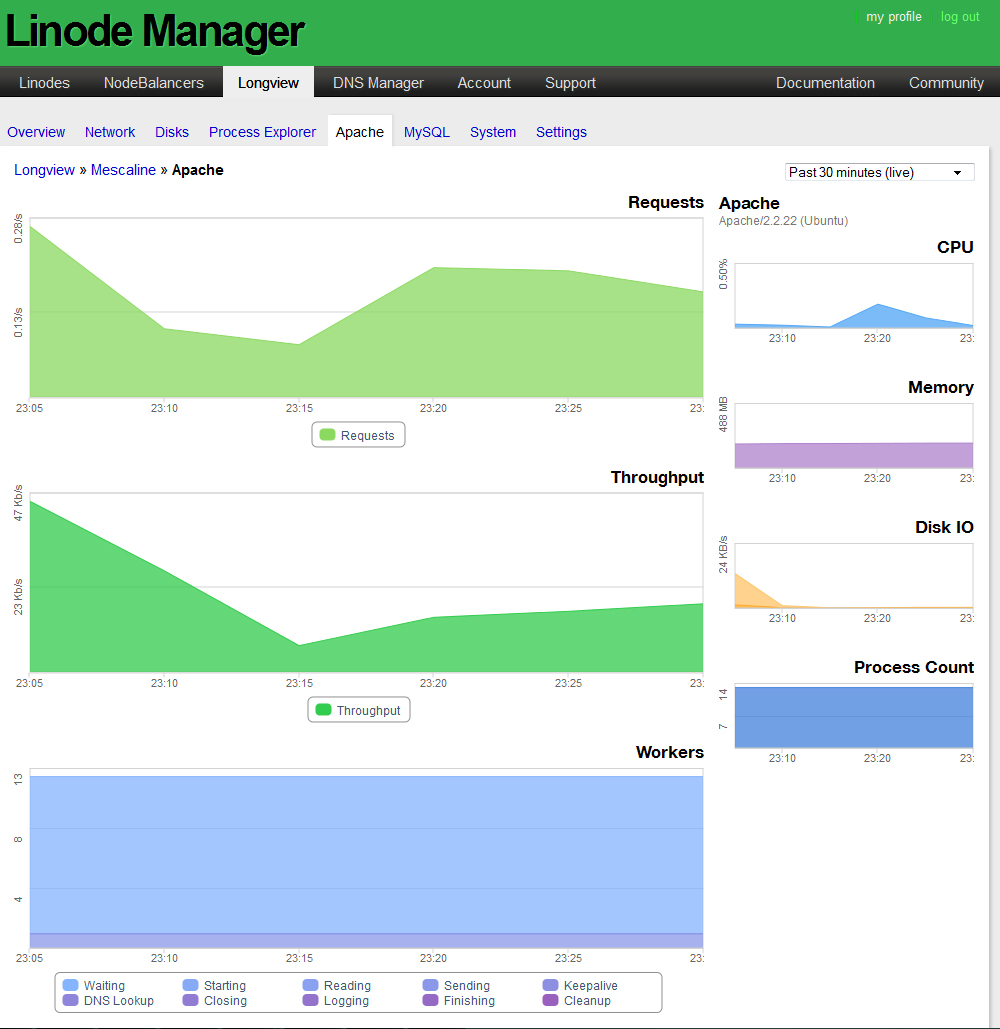 MySQL Stats View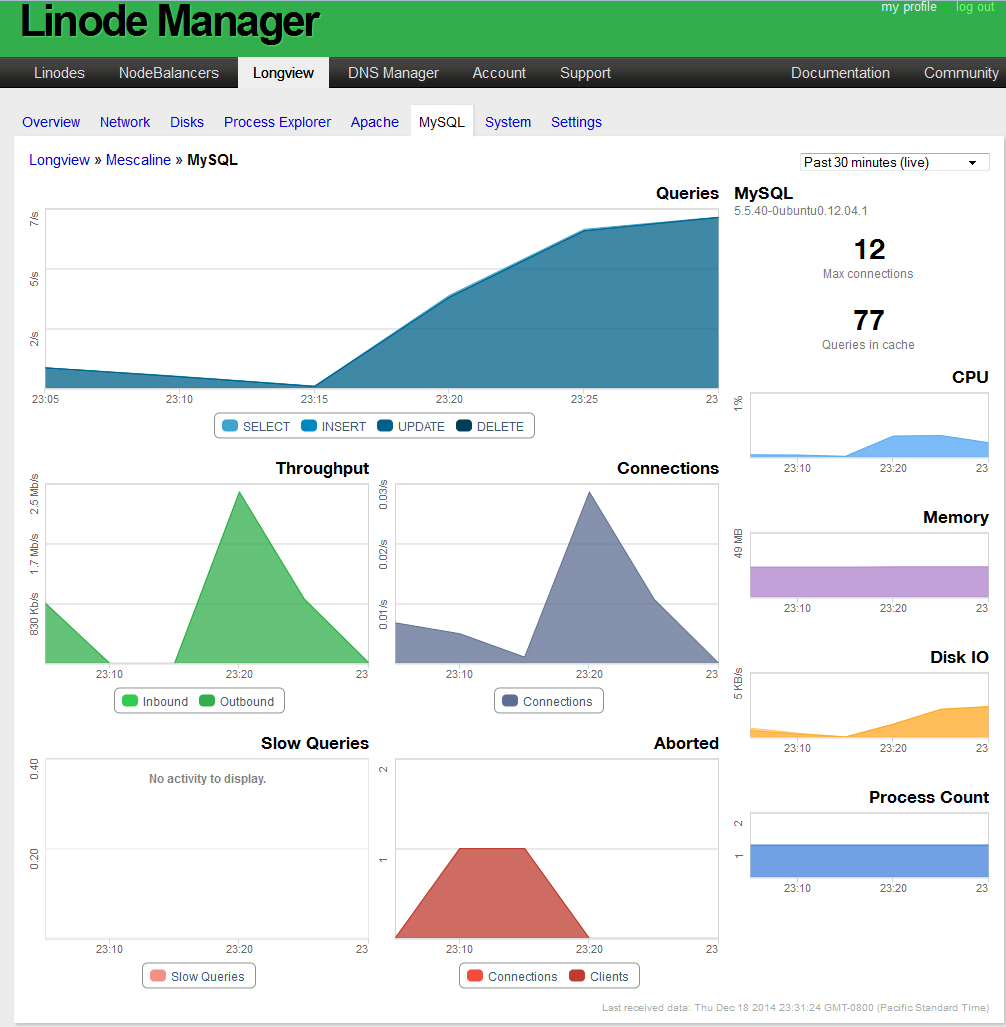 Linode makes transitioning to a VPS very easy if you are on shared hosting, or if that is the environment you are familiar with. That is because they have simple guided documentation for the setup process. Most of it is copy and paste, and there isn't very much of it necessary to complete each setup section.
I've read Perl documentation, Fedora documentation, and all kinds of documentation since the early 1990's. I know what you're thinking: it's always a complicated nightmare that makes no sense to anyone except the guy who wrote it. It's a bit weird to admit this, but the guys over at Linode have the most straightforward Linux setup documentation I've ever read.
Secretly Endorsed by DreamHost!
Want to know something funny? The DreamHost Status page is actually hosted by Linode! Here is the proof:
traceroute to dreamhoststatus.com (96.126.109.82), 30 hops max, 60 byte packets
1 23.92.24.3 (23.92.24.3) 0.445 ms 0.616 ms 0.720 ms
2 10ge8-3.core3.fmt2.he.net (64.71.132.137) 12.247 ms 12.183 ms 12.210 ms
3 10ge5-4.core1.pao1.he.net (184.105.222.90) 0.837 ms 0.825 ms 0.814 ms
4 10ge1-3.core1.ash1.he.net (184.105.213.178) 61.462 ms 64.188 ms 61.445 ms
5 eqix.ge-1-0-0.pr1.nac.net (206.126.236.69) 68.404 ms 68.395 ms 68.392 ms
6 0.e1-2.tbr2.mmu.nac.net (209.123.10.114) 73.215 ms 71.074 ms 72.454 ms
7 207.99.53.46 (207.99.53.46) 70.128 ms 70.320 ms 70.544 ms
8 li366-82.members.linode.com (96.126.109.82) 70.240 ms 70.549 ms 70.553 ms

Now that is a pretty good endorsement for Linode wouldn't you say?
Total User Recommendation Count for Linode
Read our aggregate user review data based on 193 reviews from the Linode forums. Linode has quite an impressive ratio of positive to negative recommendations based on customer reviews (actually the best of all the hosts reviewed on this site).
Low Incident Track Record
Linode reported a total of 557 incidents from July 8th, 2003 to December 28, 2009 on their forums. 359 of these incidents were simply reboots of machines. That's 64% of the incidents. That is a pretty good track record for 6 and a half years of operation. Which data centers were rebooted the most? (Note: 117 reports excluded the data center location.)
| Location | # of Reboots |
| --- | --- |
| Fremont | 31 |
| Atlanta | 33 |
| Newark | 58 |
| Dallas | 55 |
Over the same six and a half year period, Linode reported 17 network issues. Their Fremont data center seems to have born the brunt of these incidents. Their London and Tokyo servers must have been added recently, since there is no data available on them for this time period.
| Location | # of Network Incidents |
| --- | --- |
| Fremont | 9 |
| Atlanta | 3 |
| Newark | 2 |
| Dallas | 3 |
The last 181 issues were split up into the following categories, proceeded by the number of incidents reported.
| Category | # of Incidents |
| --- | --- |
| System Panics | 37 |
| Power Issues | 23 |
| Hardware Outages | 33 |
| DDoS | 1 |
| Upgrades | 11 |
| Misc. | 73 |
Overall these numbers do not seem too troubling. The fact that the majority of incidents were simple reboots is comforting. Network issues accounted for only 3% of incidents, power issues only 4%, and hardware outages only 5%. With over 250,000 customers, the chances your system will be affected are small. While issues can arise with any hosting company's data centers, these numbers are very reasonable, especially considering their mind-blowing prices.
Prices
| Feature | Linode 1GB | Linode 2GB | Linode 4GB | Linode 8GB | Linode 16GB |
| --- | --- | --- | --- | --- | --- |
| Transfer | 2 TB | 3 TB | 4 TB | 8 TB | 16 TB |
| RAM | 1 GB | 2 GB | 4 GB | 8 GB | 16 GB |
| Storage | 24 GB | 48 GB | 96 GB | 192 GB | 384 GB |
| CPU | 8 | 8 | 8 | 8 | 8 |
| Price | $10/mo | $20/mo | $40/mo | $80/mo | $160/mo |
What Else You Get
1 IP Address (you can request more)
Choice of 6 data centers (Tokyo, US West, US Central, US South, US East, London)
Managed DNS
Backups (starts at $2.50/mo)
Email and Phone Support (free)
Advanced Features
Full Root Access to Your System
A Linode Management API and Command Line Interface for Advanced Admins
NodeBalancers for Point and Click Load Distribution Setup
Conclusion
Linode's low incident track record combined with pure ease of setup, plenty of Linux distributions to choose from, and powerful scalability options make choosing it as your web host a no-brainer. And don't forget about all those sexy charts; you're going to appreciate those too.
Best of all, you won't have to worry about your site's future growth or getting traffic spikes. If you are a geek, programmer, former system admin, Linux user, or just want more control and flexibility over your web hosting environment then get Linode today.
You won't be disappointed.
Tweet