Web Host Customer Gripe Data
A "gripe," in this context, is a post by someone complaining about a hosting company online. Here is how DreamHost describes these kind of sites that pop up.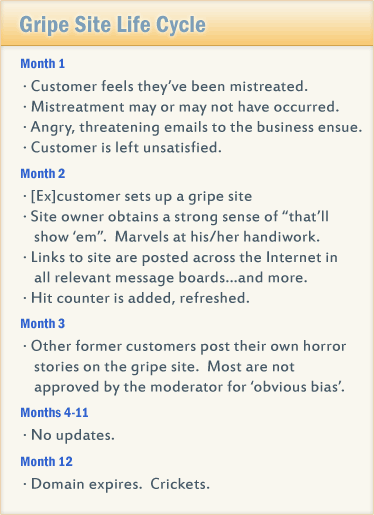 Overall Gripe Distribution
Now let's take a look at the number of Google page results for the term "DreamHost sucks", "HostGator sucks", "MediaTemple sucks", etc. for December, 2014. These are traditionally referred to as "gripes." Linode and Liquid Web are at the very bottom, with the least number of people saying they suck. DreamHost is right smack in the middle. And HostMonster wins for the most number of people decrying them.
However, these numbers should be examined in the context of the number of customers each company has, as well as how many domains they have, which you can see in the charts below:
So whose customers are the most vocal in their gripes and complaints? In the last charts I look at the percentage of complainers based on the gripe numbers divided by total customers and then, in the second chart, gripe numbers divided by total domains.
It appears InMotion customers are the most vocal about how much they think their web host sucks, which may not be all that surprising considering their ridiculous hiring video. Not sure if it is the execs, the programmers, or the video production staff, but someone is drunk over there!
Now, remember, these charts do not necessarily reflect the total quality of a web host, their services, or performance. It only refelects which companies people on the Internet, some of which are assumably part of each company's customer-base, are yelling the loudest about.
Tweet